There is strength in diversity. It fuels innovation, sparks creativity, and cultivates an atmosphere of continuous learning and improvement. We foster an inclusive environment that recognizes, respects and appreciates the different backgrounds, perspectives and cultures of our employees.
Employee Business Resource Groups
Business Resource Groups (BRGs) are created organically by employees to connect with and educate fellow employees. All of our BRGs empower employees through service, education, and philanthropy while celebrating their cultural heritage. Above and beyond that, they're positioned to provide advice and feedback to our leaders from their diverse perspectives.
Our BRGs include
ABEA: AAG Black Employees, Advocates & Allies
ACCESS: Accessibilities
AGPA: AAG Pan-Asians
AMG: AAG Military Group
GLOBE: Gay, Lesbian, Other, Bisexual Employees (LGBTQ+) See video
GREEN TEAM: Environmental stewardship and sustainability Read blog post
LCRG: Latin Culture Resource Group
NEN: Native Employee Network
PIA: Pacific Islander Alliance
WING: Women's Interactive Network Group
WIT: Women In Tech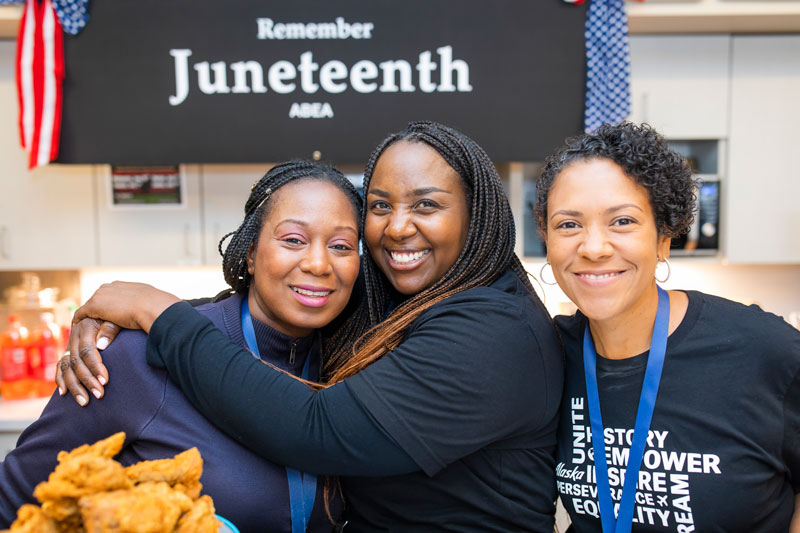 Women on our board
Alaska Airlines Lead Director Patty Bedient is proud to serve on our board, where more than 50 percent of the independent directors are women, arguing diversity and inclusion starts at the top of an organization.
"It means we 'walk the talk' on diversity at the board level," she says.
Read more about gender parity on our board